Japanese Body Therapy earnestly strives to be
No.1 body massage group in Singapore
We provide services that can make people say, "My life has changed" after receiving JAPANESE BODY THERAPY treatments.
To achieve this, we continually research and develop our techniques to offer unique value that sets us apart from other establishments. Please consider giving it a try and experiencing the real deal for yourself.
Here are the commitments we make to our customers when they receive treatment at JAPANESE BODY THERAPY:
We Prioritize Safety and Comfort
Our experienced team is dedicated to addressing our customer's physical discomfort while ensuring a safe and comfortable treatment experience.
Focus on root cause, not just relieving symptoms
We are committed to uncovering the underlying causes of our customer's issues, rather than just treating symptoms. Our staff undergoes extensive training to provide this in-depth analysis.
We Listen Carefully to Our Customer's Concerns
To improve our customer's well-being, we believe in actively listening to their concerns. Engaging in meaningful conversations and asking relevant questions are integral to our approach.
Clear and Satisfying Explanations
After identifying the cause, we take the time to explain it in a way that makes sense to our customers. Since every individual case is unique, our explanations are tailored to their specific situation.
Thorough Procedure Explanations Before Treatment
For first-time visitors, we understand that anxiety can be a factor. That's why we provide comprehensive explanations of the treatment process to ease any concerns.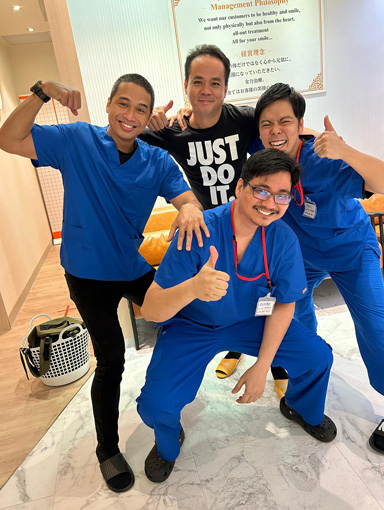 While some healthcare professionals may seem distant and aloof, our staff are known for their warm and friendly demeanor. They are approachable, great listeners, and create a pleasant atmosphere.
We make continuous efforts to keep our clinic clean
We clean daily and perform deep cleaning every month, ensuring a consistently tidy and pleasant environment.
Consideration for Customers with Children
We strive to create a welcoming environment for new mothers and parents with young children, making it easier for them to access our services.
A Message from Our Team to Our Valued Customers
We recognize that your discomfort and pain can be diverse and may vary from day to day. Depending on your condition each day, we adapt our treatment methods to provide you with the best possible care and service.
That is why, at our clinic, we place a strong emphasis on attentive listening. We believe that by truly understanding your needs, we think you'll agree that coming here was a great decision in your life.
We look forward to welcoming you and serving you soon.
Message from the CEO to Our Valued Customers:
We aim to bring not only physical well-being but also genuine happiness and smiles to our customers' hearts. 

For the sake of every customer's smile… We want JAPANESE BODY THERAPY to be the place where you can come, feel the possibility of becoming happy and pain-free, and experience a life-changing transformation. We are dedicated to upholding our mission and providing the best service and techniques that our staff can offer. 
Our goal is to offer a unique value that sets us apart, making us the top choice in Singapore. We want our customers to experience a level of service that stands out from other clinics in the city. 
We strive to create a place where joy is shared from the heart. We want our customers and staff to experience shared moments of profound joy and inspiration, creating a unique and memorable environment. 
Guided by these principles, I, along with our staff, continually reflect upon our mission. Thanks to your patronage, we strive to always deliver services and techniques that make you say, 'My life has changed!' To achieve this, we conduct ongoing training, relentlessly improving both our technical skills and our understanding of humanity. As body massage therapists, we are committed to maintaining our position at the forefront of our field and being a pivotal point in our customers' life journeys. 

We eagerly await your visit, and from the bottom of our hearts, we welcome you to our clinic.